What is Six Sigma?
Six Sigma (also taken or called as 6σ) is a systematic, scientific, tools, process mapping, statistical process control and intelligent. It is normally a set of strategy, structure, staff, and skills, which is simply call as 4S approach to innovation management that is well suited for use in a knowledge-based information society or business management. The essence of this process is the integration of four elements, which include customer, process mapping, workforce and strategy to deliver innovation with valuable customer target. It is a disciplined process that helps us to focus on developing and delivering the right products and qualitative services with reduction of waste to enhance the process control.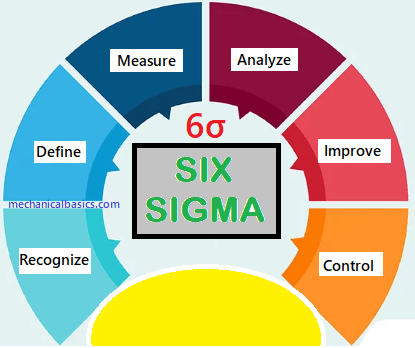 It is common to find the defects in mass productions. Lean Six Sigma is a process of washing out the defects in production and its development which reflects in time saving, material saving, etc. It drives purchaser pleasure and bottom-line consequences through decreasing variant, waste, and cycle time. The Six Sigma Concept or Process that eliminates the defects is called as the Lean Six Sigma.
Also Read:
History of Six Sigma
Six Sigma is introduced to the world at Motorola in 1986 by American Engineer Mr. Bill Smith. It has evolved into an extension of Total Quality Management (TQM).
As a project-driven management approach, the range of Six Sigma Applications is also growing from minimizing defects in an organization's processes, products and services to become a business strategy that focused on improving the understanding of customer needs, business productivity and financial performance.
It was expanded from the electronics industries initially (such as Motorola and Texas Instruments) to a number of other sectors. Over the past two decades, this growth has become more prevalent as Six Sigma Principles have been applied across the supply chain as well as in service industries such as hospitals, local government, and the public sector.
Stages In Six Sigma
As said, there are four Stages in the Six Sigma.
Stage 1
It is first define as a set of statistical quality management tools adopted within statistical quality management tool to create a framework for process mapping improvement.
The goal of Six Sigma Concept is to raise the level of performance, which measures in terms of Critical to Quality (CTQ) that reflects customer needs through a set of tools for analyzing data.  
Statistical tools identify key quality indicators as Parts per Million (PPM) of non-conforming products. Reaching a its level means having a process that produces output with less than 3.4 defective parts per million.
Here, Six Sigma Concept is recognized as a problem-solving methodology that uses statistical and quality tools to improve basic process, but not necessarily a complete management system.
Stage 2
The Second Section or Second Stage defines it as an Operating Philosophy of Management that can be shared profitably by customers, shareholders, employees and suppliers. Thanks to its flexibility, Six Sigma Applications are not limited to manufacturing, but can be extended to the entire supply chain, including the provision of services.
According to Yang et al., it is useful to apply a more disciplined approach to supply chain projects so that they can be more rigorously defined and executed.
It is also defined as a multidisciplinary, customer-oriented, structured, systematic, proactive and quantitative philosophical approach to business improvement to enhance quality, accelerate delivery and reduce costs.
Stage 3
The Third Section or Third Stage defines Six Sigma as a Business Culture. This section argues that the success of Six Sigma depends not only on statistical quality management tools and techniques, but also on the commitment of top management to guarantee employee participation in the organization.
Markarian treats this as a rigorous top down methodology that demands detailed analysis, fact-based judgment, and a control plan to ensure ongoing quality control of a process.
This organizational aspect is also shown in the work of Fang and Hui, who define Six Sigma as a "Cultural and Belief System" that enables the organization to reorient itself toward world-class business performance by enhancing factual decision-making guides in.
By Schroeder et al who consider Six Sigma Concept as an organized structure using process improvement specialists with the aim of achieving strategic objectives.
Stage 4
The Fourth Definition refers to Six Sigma as an Analysis Method that uses scientific methods, it as a well-structured continuous improvement method to reduce process variability and remove waste within business processes.
Black & Revere supports Six Sigma Concept by claiming it as a popular and widely used quality improvement method.
Kumar argues that the Six Sigma Method as Design-Measure-Analyze-Improve-Control (simply DMAIC) and Deming's Plan, Do, Test, and Act (simply PDCA).
Using the Design-Measure-Analyze-Improve-Control (DMAIC) method sequentially can help integrate the human aspects (culture change, training, customer focus) and process aspects (process stability and efficiencies, variation reduction) within Six Sigma implementation.
Benefits of Six Sigma
The Benefits of Six Sigma are
Lower Cost
Shorter Project Time
Better Results And
Better Data Integrity
In addition,
It is used to analysis of the techniques, which optimize process performance.
The solutions and methods to achieve sensible improvements by Six Sigma, provides a learning process for managers to take a detailed view of the system and transform the business effectively.
It can increase the product development cycle and process design,
Shortens the product lead time by reducing the cycle time of the overall manufacturing process.
It can be used to find and eliminate the root causes of a problem, reducing the variability in the process to prevent defects.
Six Sigma Methodologies provide guidelines that can help workers understand how to complete a task and train them to solve potential problems. As a result, they become more aware of the production process thereby improving their morale and reducing human-related defects, with regard to the role of it in reducing defects, this has been demonstrated in several studies.
Defect Rate per Unit (simply DPU) has been found to be reduced after its implementation in manufacturing systems.
The adoption of this process has improved both line efficiency and production efficiency, including the reduction of waste such as less need for inspection, the elimination of wasteful components and excessive movement, and the reduction of repair time. For this reason, this concept or process can be used to build predictive models based on experiences gathered from previously uncorrected measurements to ensure continual process improvement.
Due to its vast benefits, in recent years, knowledge management has contributed to facilitating the implementation of Six Sigma and has emerged as a source of competitive advantage in companies. It is also recognized as a strategy that drives cultural change to improve a company's profitability, surpassing the savings that are generated when defects are detected at a very early stage.
However the approach to Six Sigma varies between organizations because they integrate different techniques according to their needs, so there might be disagreement regarding the benefits as they depend on the industry and even the country where it is applied.
Moreover, Six Sigma also helps improve the relationships outside and within the organization.
It can strengthen the customer loyalty by satisfying their needs and expectations and it works as a direct link to company's management which helps establish a common language from the board to the shop floor.
Links Of Six Sigma To Other Disciplines
The pressure to stay competitive by providing a high quality product to meet customer needs has led to a comprehensive analysis of quality, speed and agility within and outside the company's boundaries.
The existing literature clearly recognizes high customer satisfaction as a significant benefit from the integration of Lean and Six Sigma concepts, which called as Lean Six Sigma, but does not agree on how to create such integration.
Most papers present the DMAIC approach as a roadmap and suggesting calls for lean tools when it is appropriate to perform the two types of exercises in parallel. In other cases, some authors identified the absence of a systematic method to merge the two concepts that resulted in the systematic implementation of Lean and Six Sigma. What is clear and common, however, is that the amalgamation of the two complementary technologies has resulted in significant performance gains for the company.
It has also been applied in the context of supply chain design. They used the DMAIC approach to analyze Container Security Risk Mitigation. Whereas, this Process approach orientation helped to monitor and improved the supply chain. Those metrics form a common denominator (defect per unit) for all systems to be analyzed, from products to processes.
Six Sigma provides a common metric to align and evaluate the performance of all functions within the organization and a methodology for translating TQM philosophy into practices. It also maintains the core principles of TQM such as customer focus (recognized within the DMAIC as critical to quality in the "defining" stage), employee involvement (green belt and black belt team leaders who form self-directed work teams, lead, empower them to create change), continuous improvement (the "control" phase within DMAIC), enlightened leadership (represented by champions in the Six Sigma team), and fact-based decision-making (It explicitly data oriented). There are many advantages to implementing both Six Sigma and TQM in a complementary form because in fact it is an extension of TQM, with the TQM philosophy at the core of Six Sigma.
As such, it is a structured methodology within the more general framework of TQM and provides a range of concepts and tools that support the overall principles and objectives of TQM.
The link between Six Sigma and Kaizen (Continuous Improvement) defines a structure using DMAIC steps to improve company performance and make it is an ongoing effort. In fact, kaizen tools are the key tools in the Six Sigma Green Belt Project. In other words Six Sigma is a complementary approach to Lean, an extension of TQM and suitable for many applications thanks to its process-oriented approach, in a structured method to enhance system performance and ensure continuous improvement culture.
Conclusion
Although there is a considerable amount of knowledge about Six Sigma and therefore many different perspectives, it is possible to identify four interpretations of Six Sigma: a set of statistical tools, an operations philosophy of management, a business culture, and an analysis. Methodology that uses scientific methods, although the streams are not mutually exclusive but are instead overlapping. However, the main goal is to remain unchanged, i.e. improving efficiency, profitability and efficiencies in the process. It has a large number of tools and techniques.
However, the different types of equipment often lead to confusion as to which equipment works best for which situations of businesses. A systematic way to guide the selection of these tools is desirable. Existing literature also traditionally classifies these Six Sigma tools under DMAIC but the classification of tools under other alternative approaches such as DFSS, DCOV or DMADV is lacking. A possible explanation for this is that all of these DFSS tools are custom-selected for a particular R&D process, industry, and use, so a definitive formulation is not possible beyond a broad assortment.